A small balcony doesn't mean a useless balcony, or a plain balcony. Sometimes small spaces make the best opportunities to create something beautiful, intimate, and deeply satisfying. The right furniture, plants and accessories, and even a small space can bring big contentment and satisfaction to the owner.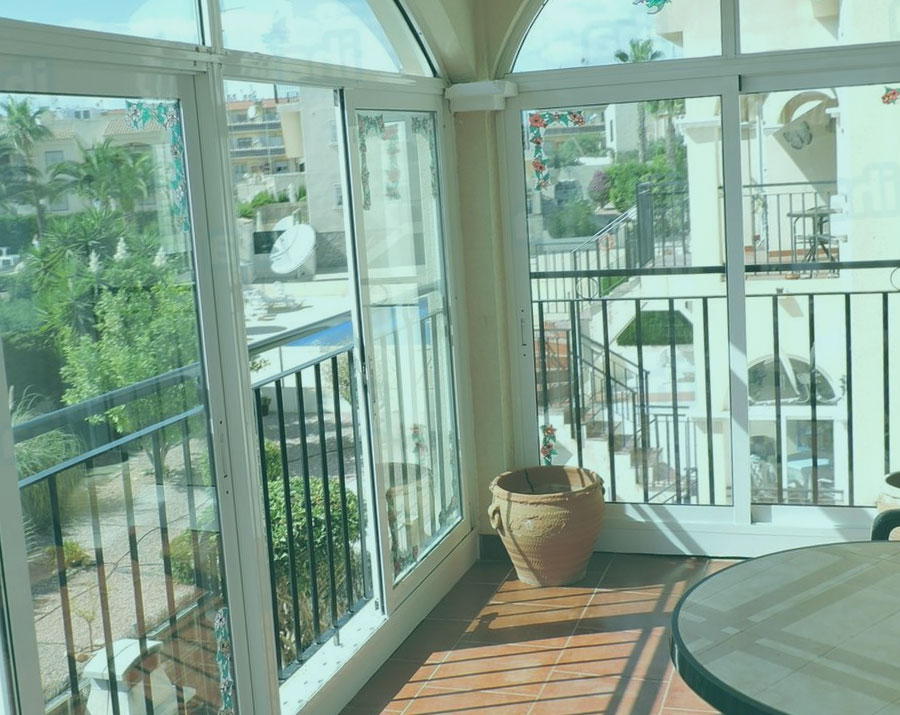 Hanging baskets are a nice touch, and don't take up floor space. The same is true of pots designed to hang on balcony railings.
A vertical garden can also mean growing your own vegetables – even on a balcony – is well within your reach.
Whatever your dream garden looks like, you can get a taste of it even in a small area like a balcony – modern, rustic, functional food growing, or bright flowers and foliage. Even a Juliet balcony can bring a garden into your reach.
1. Amazing Water
A Japanese-style garden with water features is a beautiful option.
2. Large Flower Display
Flowers can elevate any space from humdrum to spectacular – why not try bringing some of your favourites to bloom on your balcony.
3. Window Boxes
For very small balconies, use a floral box that hangs outside of the railing, but allows flowers to trail inward, giving you the life and colour without taking from balcony floor space.
4. Modern Comfy Balcony Rattan Furniture
Let yourself consider non-traditional furniture styles that might fit better in a small space. You can use rattan balcony sets to help make it a comfy space while also being weatherproof because of the aluminium framed furniture.
5. Matching Flowers on Balcony
Odd-shaped balconies, like very long, very narrow ones, provide an excellent opportunity to complement structure with floral patterns and displays.
6. Potting Up Plants on your Balcony
Almost anything can grow in a pot, so consider citrus trees, shrubbery, or other favourites in beautiful pots on your balcony. Here are some great examples of potted plants on a balcony.
7. Modern Corner Sofa Sets
If you have the room for it, a nice corner sofa can serve as an anchor and foundation to your balcony's style. Start there and build up around it. If you want loveseats to watch birds on then click here.
8. Plants and Colour
A small area, rich in plant life, can be even more relaxing that a large one – and is easier to care for, cheaper, and reaches maturity more quickly.
9. Hanging Baskets
Hanging baskets give you colour, shade, subtle motion, and all without using up valuable floor space.
10. Using Gravel
Ever consider a gravel surface on your balcony? This added texture can be very chic, and touched off with modern furniture and some stepping stones, can add to a unique, welcoming space.
11. Unique Planting Choices
Check out bamboos, cacti, and other exotics that you might not have been familiar with before. They will bring focus and conversation to your space.
12. Colour Coordination
Think of overall theme when planning your balcony garden. Choose a must-have feature (plant or item) that you definitely want, and then add complementary features to and around it. Random accumulation is not the best idea here – make a plan and make it happen. I also found some good design tips on this site.
13. Dropping Down Flowers On Balcony
Let the floral branches flow. Enjoy the presence of birds and bees. Your eyes will take pleasure in it, as will your ears – and it will do the Earth some good too.
14. Lattis/Trellis for a Balcony
A little trellis is a nice touch to the appearance of your garden, and may add privacy and plant structure where needed too.
15. Multiple Balcony Styles
If you have more than one balcony to work with, consider complementary designs, or designs that are markedly different, delighting you and your guests with the variety and difference in finished effect.
16. Get a Nice Balcony Pond
Even a small water feature can take a balcony garden to that next level. Consider your options and you might be able to have your own little pond.
17. Upright Plants Against the Wall
Where growing outward is not possible, growing upward can be the answer. Consider vertical space too – even the ceiling or canopy might be a place to grow something interesting.
18. Greenspace
Even amid the centre of a city, a little haven of green can promote peace and tranquillity.
19. Mixing up your Floral Displays
Monochrome is striking sometimes, but for lasting interest and versatility, let the widest range of colour free on your balcony.
20. Making your Balcony More Rustic
Go international, and create a look on your balcony that transports you and your guests to another place.